Loft Styling Tips for Renters: How to Decorate Like a Pro
Renting a loft means choosing a unique style of living. Being one of the trendiest and most sought-after alternatives to regular apartments, lofts have wide-open spaces with endless possibilities to decorate, furnish, and organize. If you're not sure how to begin your decorating spree, consider the following ideas to transform your rental home into an impressive living space with creative layouts and eye-catching décor.
Divide & define
A typical loft consists of one spacious room without any dividing walls, so you must find a way to not feel lost in the sea of way too much square footage. You can start by figuring out where you want to locate your sleeping area, the living room, and the dining space. Depending on where your kitchen and bathrooms are, you can easily divide the rest of the space and let the decoration process begin.
First off, you should ask yourself how you want to use your home and what your focal point will be. If you plan on working from home and you need a neat, practical office, make it a statement and base the rest of your apartment around it. Suppose you need a larger living room with extra seating and bold furnishing for lively and entertaining nights, don't hesitate to focus on that area as the core of your home. Once you decide what you want from each separate space, you can creatively carve out efficient areas to fit your desired lifestyle. To coordinate the defined areas with your living needs, use curtains or pieces of furniture such as sofas or shelving units to create a distinction between established spaces.
Embrace the style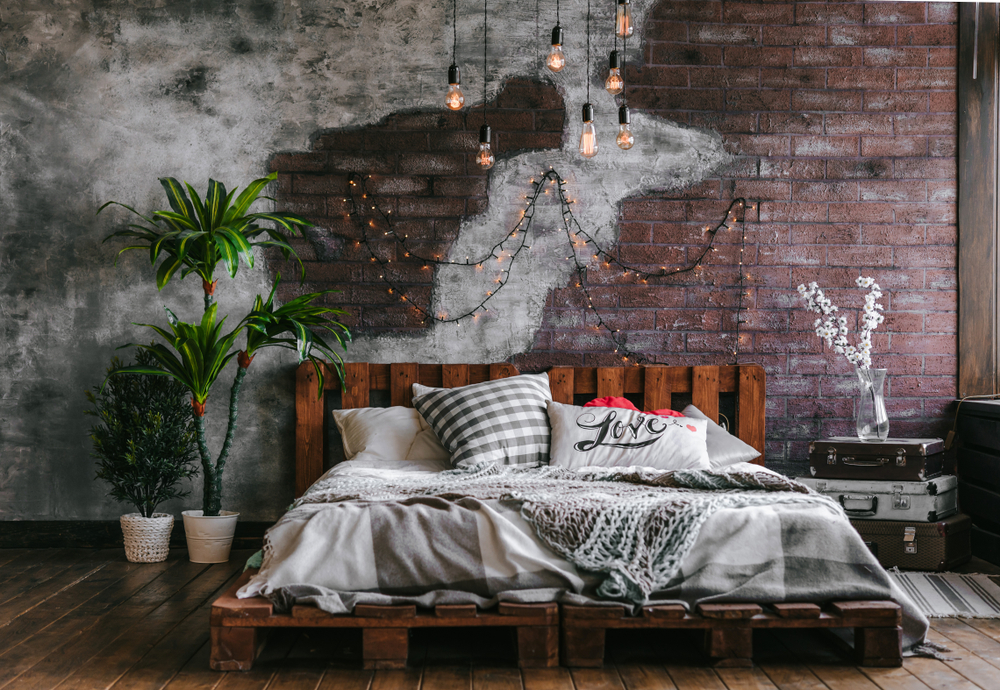 Living in a true loft apartment is often associated with being exposed to pipes and ducts, concrete floors, brick walls, unusually high ceilings, and steel hardware windows. Even though this is not something one commonly looks for in a dream home, the character of the space makes it a unique choice for contemporary living, beautifully combining traditional architecture with a modern lifestyle. When decorating your new rental apartment, take into consideration its authentic characteristics and stay true to them as much as possible for the best outcome.
If you want to adopt both calming and dynamic vibes in your home, you can take advantage of the features of the place and simultaneously create a chic interior. To preserve the industrial vibe, you want to stick to natural materials such as stone and wood, as well as manmade elements like stainless steel or glass for a modern, vibrant look. Since there are little to no space limitations, you can easily opt for massive pieces of furniture and big plants to give it an outdoorsy character.
Warm it up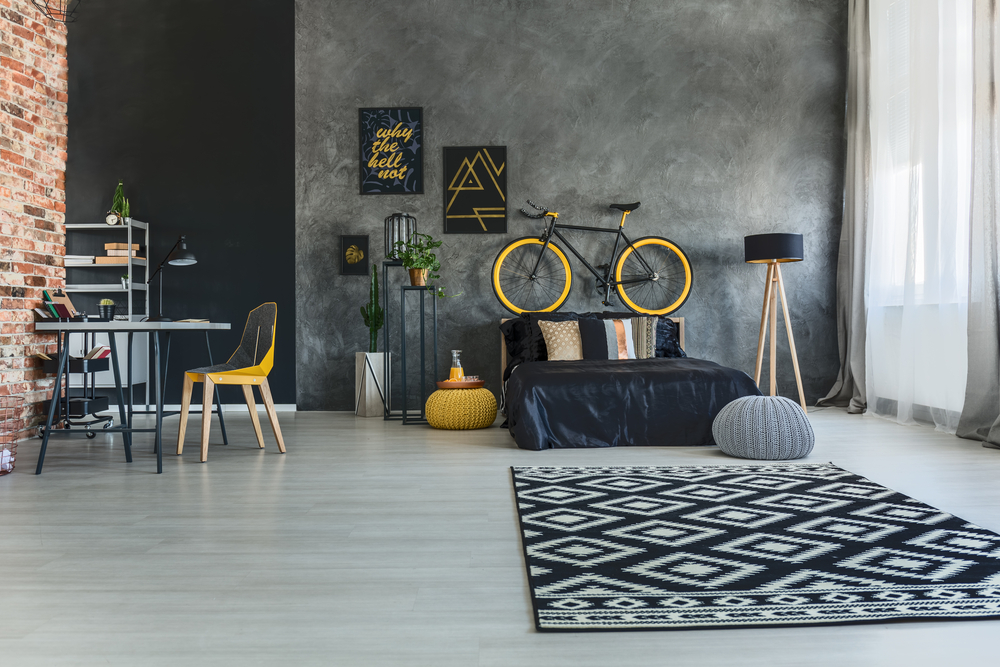 Without a doubt, the imposing hardwood or cement flooring can look phenomenal in an urban apartment, but it might ruin the ambiance when you feel the cold under bare feet first thing in the morning. If you want to keep it comfortable, you can add a few stylish rugs to add warmth and texture to any space. Not only does a well-placed rug boost the coziness of a room, but it can bring together the furnishing by creating a more cohesive look, as well as nicely define the separate areas that you have previously established.
You don't want to cover the authentic floors with carpet, but instead add artistic appeal with different rugs that go well with the general design. For example, place a bigger one in front of your sofa in the living space and one or two smaller ones in the bedroom for a more intimate setting. 
Let the light in
The biggest challenges when it comes to decorating a loft are choosing the right window treatments and the most fitting light fixtures. Obviously, you want to make the most of the beautiful view from the large windows, but you need a fair share of privacy and maybe some relief from the bright sunlight. The best choice is to go for sheer fabric curtains that will let in the superb natural light while also providing some coverage. 
After the sun goes down and you still want to enjoy the brightness, you have to carefully pick the best lighting options that fit your rental apartment. Since the high ceilings will dictate certain types of light fixtures, make the most of the vertical space by going big with the decorating ideas.  Hang unconventional chandeliers and funky pendant lights all over the ceilings to create the whimsical atmosphere that will inspire and motivate you to always put your creativity to work. This will sufficiently brighten up your entire space up and down, and, if you install unique fixtures in each different area, it will also enhance the feeling of having multiple rooms.
Choose smart storage
Even though a loft provides significantly more space than a regular apartment, you are likely to struggle with storage options, since most layouts lack built-in closets or bookshelves. Assuming that you don't want to end up with an overcrowded, disorganized apartment, you have to come up with creative ideas to store your belongings.
One of the best choices to keep the open concept from getting cluttered is to make the most use of the partitions between areas and allocate that space to storage units. Wardrobes can define the sleeping space and bookshelves can appear to separate the living room from the other areas. You can also invest in furniture pieces that have a double use, such as platform beds with plenty of storage underneath. The key to clever storage is to incorporate at least one storing unit in every room you create so that you keep it compact and preserve the openness of the space.
Last, but not least, when you want to give a personal touch to any space, you must discover your own decorating personality and be as creative and original as possible. Even more so, in the case of lofts, you shouldn't have any aesthetic limitations. Whether you find yourself attracted to an eclectic décor with a mix of bold themes and bright colors or to a more minimalist design with neutral hues, view your new home as an empty canvas and unleash your inner artist to create one-of-a-kind features.
Author bio:
Diandra Stieger is a creative writer for RENTCafe.com. With an academic background in English literature and linguistics, Diandra has a strong passion for real estate. She covers a variety of topics, from marketing trends to entertaining articles about urban development. When she's not catching up on the latest real estate deals, she's usually busy traveling, reading, or learning new languages.