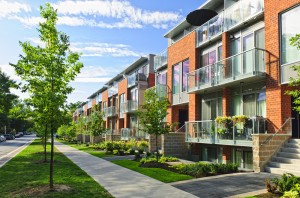 You know that curb appeal is important to buyers of single-family homes, but you are selling a loft in a large building full of similar units. How do you make yours stand out? Here are a few tips for prompting that positive first impression that makes your loft memorable
Make sure the entry way is clean, clear and clutter free. Relocate bulky furniture that makes the entry seem smaller. Avoid coat racks and umbrella stands that jut out from the wall as well.
Consider placing a fresh potted plant inside the doorway to bring the outside in. Make sure the plant is healthy and in an attractive pot, does not block the walkway and does not shed or drop leaves.
If you have a mail slot and your home is likely to be shown after delivery, make sure to place a basket under the mail slot.
Make sure the insides of your windows are clean. If your HOA is responsible for the outside windows, request that they be cleaned before showing your loft or having an open house.
If you live in a bug prone area, be sure to have your loft treated for pests—and make sure you sweep up any dead bugs.
Make sure the hallway or walkway to your unit is clean. If you need, to, sweep it yourself. Make sure to pick up any junk mail or papers cluttering the outside.
When your loft is likely to be shown, turn on the lights and have soft music playing. This may raise your utility bill slightly, but will give a warm greeting to visiting homebuyers.
As with any loft, make sure the countertops and floors and clean and personal effects are out of sight. Consider placing a bowl of fruit or bouquet of flowers on the table to add some color and interest.
If you have pets, consider boarding them while your home is being shown, or ask a neighbor to collect them before the potential buyer shows up.